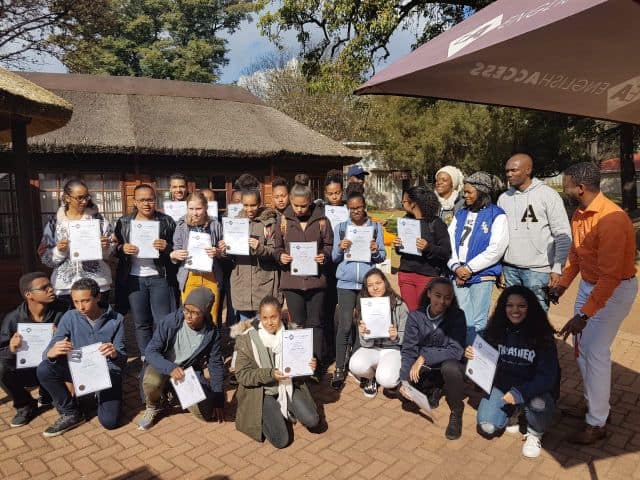 Greeted by contagious smiles all around, and an air of excitement, I sat down with several high school students from the European section of the OASIS College, Reunion Island to chat. They joined English Access Gauteng in Parkmore, Sandton  on a linguistic cultural experience where they participated in intensive English courses in the mornings. In addition to these classes they also had the chance to be in contact with teachers and other students, both South African and international.
I sat down with Emmeline Robert, Océane Robert, Vidot Solenme, Ornella Urbatro, Anthony Techer and Roberto Laslund and engaged with them about their experience at English Access Gauteng. In unison they all eagerly mentioned, "It has been different from home. Learning has been such fun, especially with the mix of activities we play to learn English". Not to mention their fondness for teacher Bongeka. Which makes sense, because the thing Bongeka loves most about her job is having students from all over the world. Bongeka emphasises that she learns as much from them as they do from her. 
Besides being able to greet, to present themselves, to ask questions, to thank someone and to ask the way, the students have also learned to use the English language in a social context. The English courses were oriented on the oral, reading and writing skills. One of the main objectives was to have the students participate collectively, to be curious, wanting to learn, be creative, open minded and to open up to other students and people they met during the summer camp. Equally important they were not only here to learn the English language, but they too were discovering the Afrikaans and German language.
By and large it wasn't all about learning, as they also got to explore some of the favoured tourist attractions. This included the Apartheid Museum (illustrating apartheid and the 20th century history of South Africa) at Gold Reef City, the Voortrekker Monument (raised to commemorate the Voortrekkers who left the Cape Colony between 1835 and 1854), and Lesedi Village. A tourist village which celebrates the cultural traditions of several different peoples of Southern Africa. It reproduces traditional dwellings and offers demonstrations of dances and other cultural activities. The students were also quick to add a main highlight was learning the story of Nelson Mandela, and they loved visiting his home.
Together with one of their teachers & managing director (a skilled martial arts teacher) of English Access Gauteng they also participated in a self-defence activity. This activity was not only fun but also improved their self-confidence and personnel awareness. All in all, the mostly 14 year olds were thrilled with their journey and were looking forward to completing their travel logbooks. This will capture the preparation before their journey started, and completed with the impressions during the actual journey.
Finally, this cultural and linguistic summer school camp has given the students the chance to become young ambassadors of their Island. When concluding I ask if they would like to return to South Africa and I am answered by an unanimous, "Definitely!"
To enjoy the cultural side of Gauteng visit here
For a full list of EAG courses visit here.
EAG is a member of EduSA, the national association of quality English language centres in South Africa. Members of EduSA must meet guaranteed minimum standards of professionalism and quality.